Maybe I need a Wordless Thursday, except my computer crashed so I can't access any new photos.
I could take a page from
Kmama's
book and offer Thank You Very Much Thursdays but … yes, I can do Thank You Thursdays. Visit
Kmama
's blog to join in.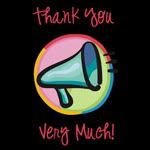 * To the twit who hit me two weeks ago, thank you very much. I was feeling better and today I can barely move.
* To the insurance company, which has given me a car rental for about two weeks, thank you very much for not putting me under more pressure than I already am.
* To the Ford dealer, who despite rumours this is the best time to purchase a car but who won't give me the deal I need on the car he was right when he said I would fall in love with it, giant thank you very much to you as well.