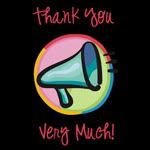 It wasn't until I got up this morning that I realized I had spent the day yesterday thinking it was Thursday.
I even participated in Kmama's Thursday's Thank You and was wondering why those who usually participate hadn't yet done so.
Well now I know.
Today is Thursday, which means I have another whole day until Friday.
Sigh.